I've seen every episode of The Game by accident. My girl watches it so that means I watch it. Sure, I could have gotten up and went into the bedroom to watch what I really wanted, but then I'd get cursed out for not spending time with her. So I figure if this woman can sit through 6 hours of pro wrestling per week I could give up 30 minutes of my time to watch her show. So we would recline back, my arm around her as she laughed and talked to the TV as if it could hear her. The only comment I ever made while watching the show was "All these sexy actresses out here waiting tables, they could have found a prettier girl for that role". Once it's over she would say something like, "that was a good one, wasn't it". To tell the truth meant no sex that night, so I would always nod, "yup".
The Game is a soap opera. Its aim is to get a rise out of females using every trick in the book from half naked dudes to cheating. Is it as funny as Martin? No way. Are the characters as fleshed out as the ones on Girlfriends, not nearly? From the wacky handheld camera angles to the horrible use of a laugh track there are a lot of things you can poke fun at. But what's the point of telling a zebra it has stripes? It's a sitcom, it's not meant to be epic. At the end of the day I realize that not all sitcoms can be Its Always Sunny In Philadelphia. Meaning that the majority of these shows are safe, predictable, and flat.
TV needs The Game. Black people watch a lot of TV, but what does TV do for Black people? Mexicans have Rey Mysterio, the only thing we have is Cleveland and a white dude does his voice. Look at the unemployment statistics, Niggas don't work, bitches don't work, so what else is there to do? Watch Maury during the day and CSI at night. The thing about shows like NCIS, House, and The Good Wife is that Black people watch that shit religiously, but they don't advertise it on their Facebook as quickly as they do The Bad Girls Club because its not the cool thing to be into. Do Black chicks turn their TV on just to watch Top Model and Basketball Wives then turn it off? No sir, they are watching the top 10 shows on TV. Hell more of them probably watch Cable TV than those coveted viewers in Middle America. A white family may not even have cable; they're probably off hiking or eating dinner together as a family. I was raised to eat dinner in front of the TV so you know niggas have cable. They may not have hot water in their project building but they have that premium HBO package.
Ratchets who name their bastard sons Derwin and ask their boo to pick the San Diego Sabers on Madden, are only a small percent of people who watch The Game. Doctors, Lawyers, Athletes, and Entertainers watch that show, not just hoodrats. But because it's BET and considered ghetto, uppity Negroes pretend as if they're too good to watch it. I'm not too good to watch it. I downloaded it and watched it a few hours ago just to see what it was hitting for. Although I'm not going to rush to watch next Tuesday, trust I can wait to see if Sister Sister tells Derwin the truth about the paternity results, I can say that I was entertained by the episode. Mostly because Meagan Good is a bad bitch even when she's not in a Jacuzzi, and I'm still waiting for Tasha Mack and Kelly Pitts to let go of the anger and lesbo it out… if they would have given Terrance J's role to a non-homosexual I may have liked it even more. So is The Game a good show? No. Is Two and A Half Men a good show? Fuck no. It's an okay show that has good moments and bad moments. I'm not a fan of it but that doesn't mean you shouldn't be. That's just my opinion and opinions are like tight assholes, everyone should have one… pause… no RazB.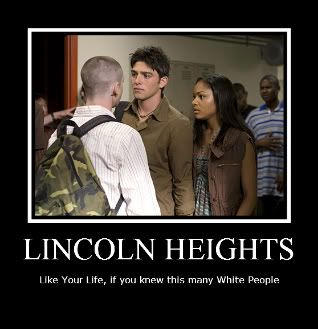 Look at TV, other than the token Blackies that satisfies the diversity department, it's a pretty white world. Why? Because execs think that a show with a Black cast won't get watched in Utah. The problem with a piece of shit show like Undercovers who have two Black leads who don't really act Black, and a show like Lincoln Park that's sweeter than a Kool-Aid frozen cup, is authenticity. White people don't want to see corny Black people on TV, they want niggas. Black people don't want to see corny Black people on TV, they want niggas. The Game may have its share of sitcom fluff, but for the most part it shows that niggerish part of Black culture that other shows don't, and for that reason alone it's an important part of TV and the only authentic Black show on TV… Yes I am aware of that Tyler Perry and Ice Cube shows that comes on and compared to that exercise in excrement, The Game is as good as the fucking Sopranos.
7.7 million People watched The Game last night. After all the jokes about how many Black people own TVs have died out, the numbers don't lie. That number is fucking huge. SpongeBob and WWE are the biggest shows on Cable and they aren't fucking with that number. The show I work on went head to head with it and we got CRUSHED. So yeah, I have to take my hat off to the history that was made last night and what it means going forward for Black TV shows…
And with that tease, I'll say this to all of my peeps who read. Tell everyone to read this blog. Facebook it, tweet it, post it on Blackplanet, I don't care, get the word out and visit the site as much as possible over the next few months… because of you great fucking people who hit the page everyday (not you 49ers dude you're a nut job) we are about to do something very exciting… And that's all I'm allowed to say on that topic for now